Tannoy Reveal 402

4″ 50W Active Studio Monitor

ลำโพงมอนิเตอร์สำหรับห้องบันทึกเสียง Tannoy Reveal 402 ลำโพงขนาด 4 นิ้ว Woofer, เสียงแหลม 0.75นิ้ว Tweeter, มีกำลังขับ 50วัตต์ Custom-Tuned Bi-Amp Module, Active Crossover, Front-Firing Bass Port, Rubber Padded Base for Isolation, AUX Link Option for Mobile Devices

The Reveal 402 from Tannoy is a 4″ powered 2-way reference speaker that is designed for mixing and monitoring in the home, or the studio. It features an active crossover filter that aims to improve timing for a wider sweet spot, plus an accurately-tuned, front-firing bass port to help ensure optimal low frequency performance.

Equipped with a bi-amped, 50W amplifier that powers a 4″ woofer and a 0.75″ soft-dome tweeter, the Reveal 402 is designed to ensure maximum power and tonal clarity. It also features adjustable volume and EQ settings to customize the tuning of the speaker to compensate for acoustical deficiencies that may be present in your monitoring environment.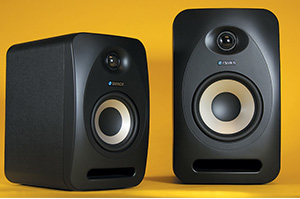 Included in the box of each monitor, is a 5 meter 1/8″ (3.5mm) jack cable. Combined with the AUX Link feature, this allows you to plug into your laptop or portable music player's headphone output and link two Reveal 402 monitors for an instant stereo setup with no need for external interfaces.
This is convenient for mixing on-the-go or for times when you just want to listen to some of your favorite music from your mobile device.
Features:
Reference monitor ideal for desktop recording or secondary monitoring in personal studios
70 Watt custom bi-amped design delivers impressive sound from an ultra-compact enclosure
4" custom high-efficiency low frequency driver for extended bass response
¾" soft-dome 'Poke-Resistant' tweeter for detailed high frequency reproduction
Accurately tuned front-firing bass port allows near-wall placement and ensures optimal low frequency performance
Ultra-wide sweet spot allows you to move around in your workspace without losing the stereo imaging of your mix
Rubberized foam base provides acoustic isolation
Adjustable equalization to match your listening environment
Balanced XLR input and unbalanced 1/4″ TS input for maximum flexibility
1/8″ stereo input with monitor link facility for connection of mobile devices (cable included)
Specifications
Frequency Response
56 Hz – 48 kHz
Maximum SPL
101 dB
Equalization
Neutral HF setting, +/-1.5 dB HF boost/cut
Crossover Frequency
2.8 kHz
Low Frequency Alignment
Optimized front port
Fuse Data
100 – 120 V: T800 mAL / 250 V
200 – 240 V: T800 mAL / 250 V
Max Power Consumption
96 W
Power Supply Compatibility
100-120 V or 200-240 V (50 – 60 Hz)
Inputs
Balanced: XLR, 20 kOhm
Unbalanced: 1/4″ jack, 10 kOhm
AUX Link: 1/8″ jack, 10 kOhm
Output
AUX Link: 1/8″ jack
THD
< 0.9 %
Amplified Output
LF/mid range: 25 W (RMS)
HF: 25 W (RMS)
Drivers
LF/mid range: 4″ (100 mm)
HF: 3/4″ (19 mm), soft dome
Dimensions
9.45 x 5.79 x 8.35″ (240 x 147 x 212 mm)
Weight
Not specified by manufacturer
Packaging Info
Package Weight
12.25 lb
Box Dimensions (LxWxH)
11.8 x 10.1 x 9.6″