QSC GX3

300 Watt 8 Ohm Power Amplifier

เครื่องขยายเสียงกลางแจ้ง (เพาเวอร์แอมป์) QSC GX3 มีกำลังขับ 300 วัตต์ 8 Ohm Speakers XLR, Optimized for 4 and 8 ohm Speakers, XLR, 1/4″ TRS and Phono Inputs, Speakon® Combo Outputs, Subwoofer/Satellite Crossover Built-in

The QSC GSX GX3 Power Amplifier is designed to provide power, portability and professional sound quality at an affordable price. The GX3 features 300 watts of power at 8 ohms (both channels driven) in a design that's easy to install and delivers flexible features. The rear panel features balanced XLR and 1/4″ phone inputs, as well as unbalanced RCA phono inputs for complete compatibility with professional and consumer audio gear.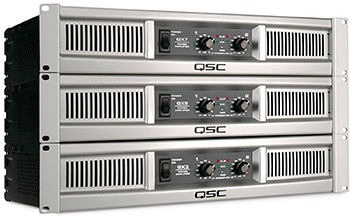 The outputs feature speaker binding posts and Speakon ® connections. Detented gain controls provide precise level settings. QSC's GuardRail protection delivers full peak power while preventing detrimental overloads due to excessive clipping or overheating. In addition, a built-in 180Hz crossover splits low and mid frequency signal between the left and right channel. This is ideal for driving sub-woofers.
The GX3 is a feature packed, lightweight amplifier that's suitable for mid-size venue installation, musicians, mobile DJs, etc.
Features:
Power levels matched to the most popular speakers used by entertainers
Optimized for maximum real-world headroom into 4- and 8-ohm speaker systems
Inputs: XLR, 1/4″ TRS and phono input connectors for compatibility with any source
Outputs: Speakon® combo accepts 1/4″ (TS) plugs or Speakon 2- and 4-pole plugs (connects 2 poles only). Binding posts support all other speaker wiring systems
Minimum depth chassis (10.1″ / 257 mm) fits in compact, inexpensive effects racks
Lightweight – GX3 and GX5 less than 26 lb (12.5 kg). GX7 only 15.5 lb (7 kg)*
Detented gain controls for precise setting and matching of sensitivity
GuardRail™ automatically protects the amplifier and loudspeakers from damage due to temperature rise or overdrive without shutting down the show
Front panel LEDs monitor power, signal, and clipping
Subwoofer/satellite crossover built-in